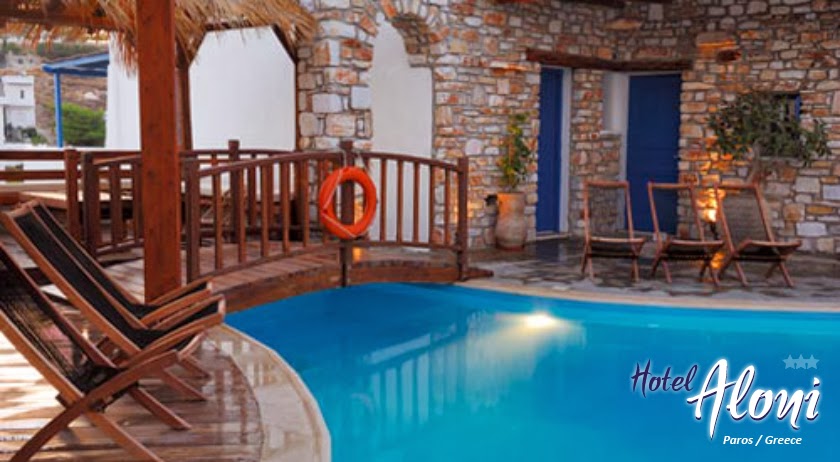 The Aloni Hotel is built according in the traditional Greek Mediterranean style and incorporates the architectural characteristics of the Cyclades islands. Its Piso Livadi beach front location is a theme that continues throughout the hotel, thanks to a color scheme of stone, sand and sea.
The indoor spaces and rooms are decorated with accents of summer-sky blue on a mostly pure-white background and are highlighted by splashes of the colors of Greek pottery; tans, reds, and watery greens. White washed walls, simple soft lines on the wooden furniture, linen curtains that hang over the beds and pillows with Greek patterns create an element of Cycladic influence and are specially designed to accommodate families in the most comfortable and relaxing way. The hand-painted walls showing Greek island themes and landscapes and the long, white curtains that billow gracefully in the morning breeze bring an extra romantic sense into every each and every room.
The Aloni hotel, built amphitheatrically, blends harmoniously with the natural beauty of the area with bright blue accents throughout the property. It's an ideal place for you to spend a relaxing holiday on the island of Paros. Enjoy…
Don't forget to follow us on Twitter, Facebook and Pinterest!
Also, visit us in Flickr for more details and inside photos of Aloni Paros hotel.