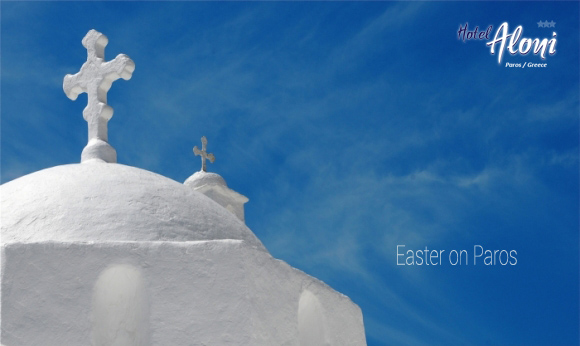 Greek Orthodox Easter on Paros Island is a unique experience who is first visiting the island.
Every Spring Paros island is blossoming with flowers and aromatic herbs that are sensational.
Nature is quickly and wildly awacking and who has the chance to witness this is astonished by the beauty.
The myriad churches across the island of Paros all organize individual celebrations of the Easter rites. One of the highlights during Holy Week is to take a tour of the decorated epitaphios lying in state in each church during the day on Good Friday. From the small chapel of Iera Moni tou Christou tou Dasous (Holy Church of Christ of the Forest) to the exceptional Byzantine cathedral of Panagia Ekatondapiliani (Our Lady of One Hundred Doors), you see such impressive handmade expressions of devotion and observe the constant stream of devotees coming to pay their respects.
Choose any church to attend the Midnight resurrection mass; you will not soon forget the magic of experiencing this unique ritual first hand.