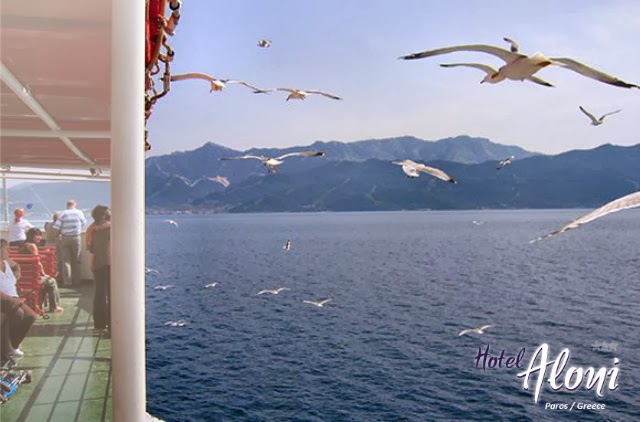 Paros Island has a lot to offer its visitors, this is not a secret! Whether you prefer a quiet, relaxing holiday or you would just like to party, you'll surely find what you are looking for. One thing though that makes the island stand out is its geographical position close to other islands of Cyclades. This makes it the perfect place for an island hopping adventure.
Piso Livadi as it is protected from the wind, makes it not only an ideal anchorage for fishing boats and small yachts but it also offers the opportunity of various short excursions and cruises to the neighboring islands such as Antiparos, Mykonos, Santorini, Amorgos, Delos or small Cyclades islands; Iraklia and Koufonisia. If you want to discover the magic around Paros Island without leaving the island, one day cruises are just perfect.
Visit Antiparos, a small paradise located just across Paros island. Known for its calm atmosphere, it is ideal for an alternative and relaxing one day trip.
A one-day trip visiting Delos and Mykonos, two of the most interesting islands of the Cyclades is probably a-must-go. Delos, with its unique ancient monuments and one of the most important archaeological museums in all of Greece and, Mykonos the world-known jet-set paradise, with the Little Venice of the Aegean and the Windmills, spots recognized all over the world.
Santonini island is a romantic one day cruise that you can join while in Paros. The boat sails from Piso Livadi in the morning and after 2,5 hours you reach Santorini island. After 6 hours of exploration you get the way back to the island of Paros.
Speaking for one day trips, you will definitely not want to miss sailing to Little Cyclades with a traditional wooden boat. It will be a unique experience. Have fun with the rest on the boat, swim into the blue waters and have a BBQ on the boat! Doesn't it sound like fun or what?
During the summer months, there are daily trips scheduled from Piso Livadi to most of the above. Having Paros island and Aloni Paros hotel as your base, one day cruises and excursions are a perfect way to explore more of the Greek islands than you thought!